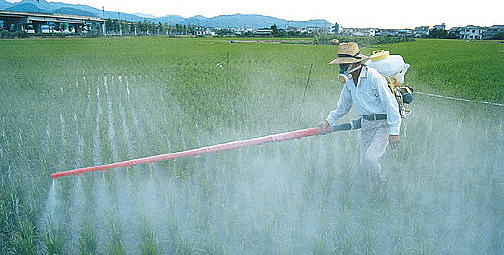 Dozens of pesticides are found on our food, even after washing, presenting an ongoing source of exposure to these hazardous chemicals. For example, Pesticide Action Network has found that 93% of Americans had metabolites of chlorpyrifos — a neurotoxic insectide — in their urine. Chlorpyrifos is part of a family of pesticides (organophosphates) linked to Attention Deficit Hyperactivity Disorder (ADHD).  Although it is banned from home use because of its risks to children, it remains one of the most widely used pesticides in U.S. agriculture.
One factor driving an increase in pesticides is the use of genetically engineered crops (or GMOs). According to a peer reviewed study by Dr. Charles Benbrook, after the introduction of GMO crops, pesticide use increased by 386 million pounds. As predicted, pests are now becoming resistant to the chemicals used with genetically engineered crops, and companies are now proposing to use even more toxic chemicals such as 2,4-D — a reproductive toxicant, suspected endocrine disruptor and probable carcinogen. Children are particularly susceptible to its effects.  Read more about the dangers of GMO crops and herbicides at Pesticide Action Network and Beyond Pesticides.  
The good news is that we don't need pesticides to grow our food, or to feed the world. Organic farmers in the U.S. produced more than $20 billion worth of pesticide-free food in 2007, and at a 20% annual growth rate, organics are the fastest growing agricultural sector. 
News Releases
Beyond Pesticides Daily News Blog
Pesticide Action Network Media Page
Fact Sheets
Beyond Pesticides Fact Sheets about commonly used pesticides and safer alternatives
Avoiding Toxic Triclosan One of the most prevalent antibacterial compounds found in consumer products, triclosan is linked to many adverse effects, including skin irritation, allergy susceptibility, endocrine disruption, antibiotic resistance, tainted water, dioxin contamination and destruction of fragile aquatic systems. Sign the Pledge to end consumer use of triclosan. 
EWG's Shopper's Guide to Pesticides in Produce  A list of fruits and vegetables with the highest and lowest amount of pesticides discovered by the USDA testing program.
Food Labels: Do you know what you're eating?  Learn more about the terms organic, naturally processed, all natural, and processed on food labels by the Center for Agriculture and Food Systems.
Tools for Schools
Beyond Pesticides' Healthy Schools Project  aims to create healthier learning environments by minimizing the risks of pesticides through the adoption of integrated pest management (IPM) policies and programs at the local, state and federal level.
Database Tools for Pesticide Information
Beyond Pesticides' database tool provides policy makers, businesses and activists with easier access to current and historical information on pesticide hazards and safe pest management.  
Pesticide Action Network's searchable database  provides links to factsheets, basic chemical, alternatives, health and environmental effects, regulatory status, key studies and more.
Organizations Working on Pesticides
Beyond Pesticides works with allies in protecting public health and the environment to lead the transition to a world free of toxic pesticides.
Environmental Working Group has many resources on food, pesticides and GMOs.
Institute for Agriculture and Trade Policy works locally and globally to ensure fair and sustainable food, farm and trade systems. Find resources that include the overuse of antibiotics and toxics in agriculture and aquaculture, and the impact of genetically engineered crops on the environment, human health and farmer income.
Organic Consumers Association focuses exclusively on promoting the views and interests of the U.S.'s estimated 50 million organic and socially responsible consumers and has many resources on the risks of fair trade and genetically engineered food.
Pesticide Action Network works to replace the use of hazardous pesticides with ecologically sound and socially just alternatives.  They link local and international consumer, labor, health, environment and agriculture groups into an international citizens' action network.