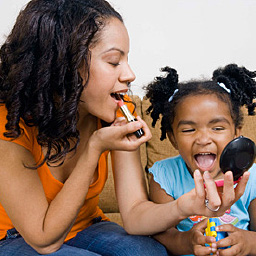 Major loopholes in U.S. federal law allow the $60 billion cosmetics industry to put unlimited amounts of chemicals into personal care products with no required testing, no monitoring of health effects and inadequate labeling. In fact, cosmetics are among the least-regulated products on the market. That means it is legal to use lead in lipstick, formaldehyde in baby shampoo, hormone disruptors in fragrances marketed to teenagers, and chemicals linked to infertility in products used by men and women of all ages.
For example, more than 1 in 5 personal care products contain chemicals linked to cancer, 80 percent contain hazardous impurities, and 56 percent contain penetration enhancers that help deliver ingredients deeper into the skin.
The companies say it's just low levels of toxic chemicals in the products. The problem is, most of us are being exposed to scores of hazardous chemicals every day, from personal care products and many other sources — and emerging scientific studies show that even low levels of exposure can be harmful.
For the latest information and to take action to support safe personal care products, please visit the Campaign for Safe Cosmetics.
News Releases

See press releases, reports, videos on Campaign for Safe Cosmetics Media Page.
Government Action  
The Safe Cosmetics Act was introduced to the US House of Representatives in March 2013. Learn more about the Safe Cosmetics Act and Take Action to support safe products.
Finding Safer Products
Take an eye-opening tour of your bathroom cabinet with Skin Deep, the online cosmetics safety database created by Campaign for Safe Cosmetics partner, Environmental Working Group. Ranks over 60,000 personal care products on a scale from 1-10, with 10 being most toxic.
Science Resources
Learn more about the chemicals of concern in cosmetics.
For Companies
Companies that want to screen and eliminate hazardous chemicals in their personal care products can join the Campaign for Safe Cosmetics Business Network  
Videos
The 8-minute video Story of Cosmetics has been viewed more than one million times! Check it out and share with your friends: The Story of Cosmetics
Giving the Plastic, Chemical and Beauty Industries a Makeover! See the 11-minute TEDx talk by Campaign for Safe Cosmetics co-founder Stacy Malkan.
Fact Sheets
Downloadable materials from Campaign for Safe Cosmetics
Reports About What's in Your Products
Brazilian Blowout: Latest News about the Toxins in Hair Straighteners. 
Flat Our Risky: EWG's Report on Hair Straighteners.
Heavy Metal Hazard: The Health Risks of Hidden Heavy Metals in Face Makeup.
No More Toxic Tub: Carcinogens in baby bath products.
Not Just a Pretty Face: The Ugly Side of the Beauty Industry: Award-winning book about Campaign for Safe Cosmetics by Stacy Malkan. Also see Not Just a Pretty Face blog.
Not So Sexy: The Health Risks of Secret Chemicals in Fragrance.
The Poison Kiss: The Problem of Lead in Lipstick. 
Retail Therapy: Ranking Retailers on their Commitment to Personal Care Products and Consumer Safety (PDF).
Secret Scents: The Allergens Hiding in your Scented Products.
Sunscreen Guide by Environmental Working Group and their list of Best Sunscreens.